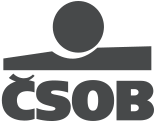 ČSOB Premium
Concept, copywriting, wireframes, UX prototype, graphic designs and HTML & CSS prototype of fully responsive website for ČSOB Premium optimized for smartphone, tablet and desktop including retina displays.
Realization of wireframes and designs within a month including iterations and presentations to the client.
Preparation od a detailed design styleguide for future updates.
Our expertise
Our delivery
60× Wireframes
1× UX prototype
80× Screens
100× Icons
1× Styleguide (110 pages)
20× Responsive HTML & CSS pages
Timing
12/2015 – 04/2016